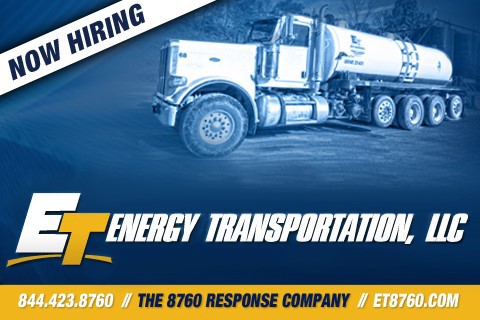 Energy Transportation LLC

Company Description
The '8760' Company – Ready when you are, anytime, anywhere!
ENERGY TRANSPORTATION, LLC. (ET), headquartered in Bridgeport, WV, is a safe, dependable and high-quality transportation company offering diverse and comprehensive services to the oil and gas industry, including those from its reliable environmental services unit. Operating in WV, OH, PA, VA, MD & NY, Energy Transportation is a fully insured, licensed, USPEPA and DOT-approved hazardous and non-hazardous waste transporter. We specialize in hauling petroleum products and various other sensitive chemicals including handling legal disposal, as required.
Examples of other expertise includes drum and waste management services, DOT and OHSA regulatory reviews and audits, internal assessments for compliance and operations efficiency, a wide range of pumping & removal services, liquid & solid waste testing & analysis, as well as, on-going maintenance contracting options.
Call us today to experience our services or to discuss how ET resources and knowledge can meet your company's specific needs.
ET provides expert 24-hour emergency response, "second to none". Most importantly, we have a fully licensed, experienced team including those 40-hour HAZWOPER certified and CDL drivers w/ HAZMAT & tanker endorsements.
"Where safety is a value, not just a practice!"
Categories
Professional Services

Brine Hauling & Disposal
Environmental Services
Hazmat Hauling Services
Professional Services
Service Companies
Slip Repairs

Transportation

Truck Equipment and Service
Trucking Services
Water Disposal
To Top